2020.07.16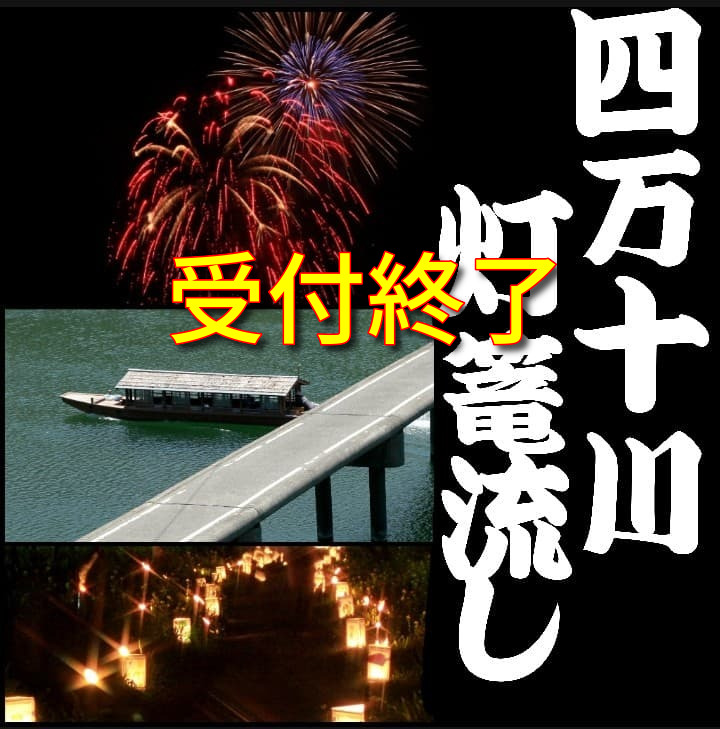 News of the end of "Shimanto River floating of lanterns" receptionist
 We carried out acceptance only in the first 100 people about scheduled "Shimanto River floating of lanterns" on Saturday, August 8, but are finished on Thursday, July 16 as it reached capacity.
 Thank you for your many applications.
---
This year-limited event holding was decided!
In Shimantogawa-kankoyuransen contact meeting, to regain turnout for Shimanto River sightseeing,
And to condole with person passed away for infectious disease, and to thank healthcare worker for the service
We hold "Shimanto River floating of lanterns" event.
In refreshing coolness of Shimanto River, please spend a summer time.
※Image is image
▼Date and time Saturday, August 8 from 5:00 p.m. to 8:00
▼Around place Okawasuji (chushajoyu)
※I will inform subscriber some other time.
▼Contents Shimanto River sightseeing sight-seeing, floating of lanterns, fireworks appreciation
▼100 capacity first arrival ※To five 1 group
▼From application start Wednesday, July 15
※We close as soon as it becomes capacity
▼Rate 2000 yen for adults, child (primary schoolchild or younger) 1,000 yen
▼The application method Shimantogawa-kankoyuransen contact meeting secretariat
(the Shimanto City Hall)
Telephone (0880) 34-1783
FAX(0880) 34-2525 FAX paper is this→☆
E-mail: [email protected]
[instructions]
It is said that participation in this event completely needs reservations.
Please refrain from visit without reservation or appreciation at place to be troubled.
[reference]
The Shimantogawa-kankoyuransen contact meeting secretariat
(the Shimanto City Hall)
Telephone (0880) 34-1783
Shimanto City Tourism Association
Telephone (0880) 35-4171