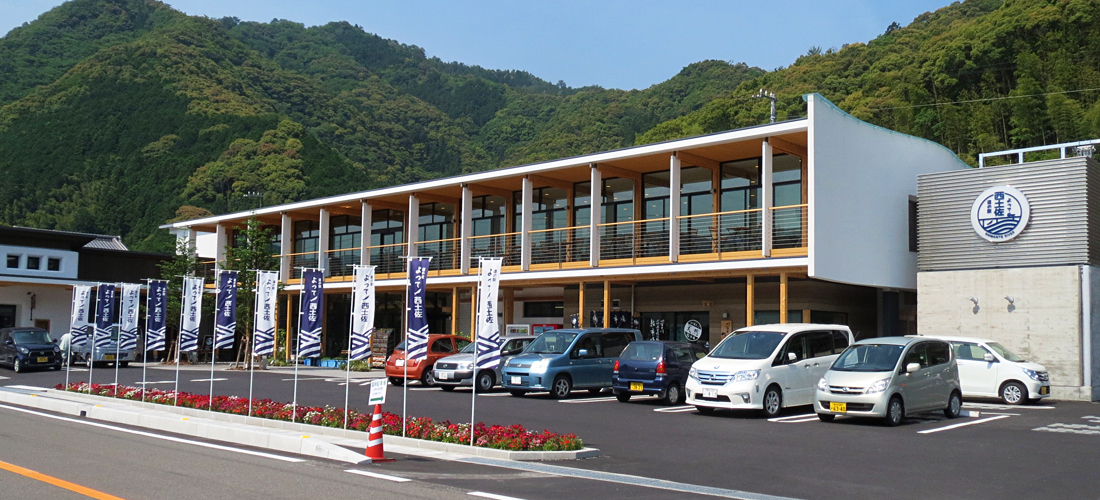 Facility information
Address/2410-3, Nishitosaekawasaki, Shimanto-shi, Kochi
Phone number/0880-52-1398
FAX/0880-52-2413
HP/www.yotte.jp sweetfish market HP/40010.chu.jp
Business hours 7:30-18:00 restroom, parking lot is available for 24 hours
※As for the period from March through November, is without holiday, period from December through February Tuesday fixed closing day (in the case of holiday, do business on Tuesday)
Fresh and young market (the fruits and vegetables, souvenir section) 7:30-18:00
The west Tosa restaurant          10:00-16:00 
Sweetfish market             8:30-17:00 
Straw bail SANKANYA   10:00-17:00 
| Parking lot | Shop | Public telephone |
| --- | --- | --- |
| * | Direct sale place, restaurant, other tenants | * |
WC
Man
Woman
The one for person with a physical disability
*
*
*
The details
 "Thus, west Tosa" is located at Route 441 of the middle basin of Shimanto River and junction of Route 381 at new Roadside Station that opened in 2016, and Tosa and culture of Iyo can be also known as gateway of sightseeing in fusing Shimanto River; is provided equipment.
Local fresh farm products are arranged on noted product, light truck wagon placed in the center in shop, and handmade artefact and lunch are had to traditional dish which local, reaches abundantly by seasonal thing.
We are particular about natural product and we actually see rich good luck of Shimanto River such as eel tsugani with eyes let alone sweetfish and, in sweetfish market, can taste on the spot. [sweetfish grilled with salt demonstration sale 10:00-15:00]
Big diorama of Yodo Line railroad is on the second floor and will be that children are with shining eyes in force and delicacy. On opening-like wooden deck, it is straw bail      With delicious sweets using seasonal fruit of SANKANYA, you can enjoy scenery of magnificent Shimanto River.
There is large community space, and it is in base of rest that not only visitor from outside the prefecture but also people of local resident are available casually.
Photogallery