Shimanto River is big river where is the longest in Shikoku by 196km.
 "Source point" of Shimanto River "non-climbing a mountain" of Tsuno-cho, Takaoka-gun, Kochi. It is Takamine of 1,336m above sea level to be located the southeast of Shikoku karst prefectural nature park.
Northern part, Yusuhara-cho of Tsuno-cho are included in the source level, and there is comfortable sightseeing point to Shikoku karst and Tengu Highland, seasonal Nature and Kagekatsu including forest of the Shimanto source.
 Originally official name of Shimanto River was "tokawa". Shimanto River was called by Nakamura (existing Nakamura, Shimanto-shi) as popular name, but we would be known to the whole country triggered by "Japanese last clear stream, Shimanto River" and thing introduced on TV and were changed in "Shimanto River" for strong request of hometown on July 25, 1994.
The upper reaches
 We go south gently while the southern part, Yusuhara-cho, Nakatosa-cho of Tsuno-cho, 40,010 northern part being included in basin on Shimanto River, and Shimanto River gathering innumerable mountain streams and branches in basin, and gradually increasing quantity of water.
 There are hot spring and campground, Tarogawa Park, roar park in the whole area and, in season from spring to summer, can enjoy outdoor life such as camping or mountain stream fishing.
Midstream
 Yusuhara river and junction that southing is blocked on plateau in Kubokawa, Shimanto-cho, and leave for the west while Shimanto River which gathered branches of ikukin greatly repeats meandering, and are branch greatest before long more with the extensive whole area of 40,010 towns, the Shimanto City northern part is included in the middle basin of Shimanto River and are here. We join Hiromi river which is the second branch in more Shimanto City west Tosa and begin southing again.
 Comfortable clear stream is popular with rich quantity of water and width of a river as canoe and boat, Mecca of outdoor life including camping so as not to think to be the middle basin in river of Japan.
The downstream
 In the lower valley of Shimanto River, there is Shimanto City which is central city in economic culture, and we go south relaxedly, and river pours city area into the Pacific all the way with it is here.
 The highlight such as sightseeing pleasure boat and dragonfly nature park, subsidence bridge of Sada is in the lower valley and are endowed with the scenery such as traditional "fishing in a river". In the river mouth near the Shimanto River, young people enjoying surfing are seen.
 Agriculture was carried out flourishingly in Shimanto River basin from ancient times and carried charcoal and farm products made again in upper basin by ship to the lower valley and was accompanied by the pivot of circulation economy.
 However, it was nature of the locality that typhoon did frequently, and Shimanto River basin often from the old days came in damage of flood. Dike construction and shore protection works advance after the war, and the damage was greatly reduced, but still subsidence Bridge still sets in season of heavy rain and we act violently and show one side of river.
Subsidence bridge of Shimanto River
 As for the scenery called blue sky, blue Shimanto River and subsidence bridge, it is with point of sightseeing in the magnificent green mountains.
There is no railing in subsidence bridge. We assume that bridge has "subsidence" underwater and prevent that flow of tree nadogaga catch water gets worse by receiving resistance of water, and there being kenikukusurutameya, railing and do not make railing with deluge in order to avoid the flooding of further river from beginning. In other words, subsidence bridge accepts nature of straight fact not being used to hold nature, and it may be said that we symbolize lifestyle of people finishing in basin to get on, and to live.
 Feeling when the nearest subsidence bridge is Sada (Imanari) subsidence bridge and crosses bridge from the river mouth is excellent desu so.
 Only in the Shimanto city, Fukaki, Takase, Katsuma, mouth indoor, Iwama, Nagaoi, Nakahage, river which there is subsidence Bridge of half house, and seems to be all Shimanto River and felt scenery of relation with people are seen elsewhere.
Subsidence bridge of Shimanto City
Imanari Bridge (popular name/Sada subsidence bridge)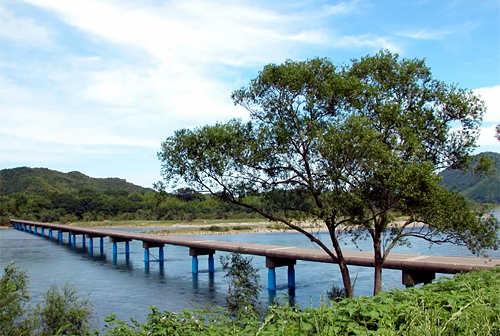 Is car than Nakamura Station; 15 minutes. It is 40 minutes by bicycle. There is bus, but is inconvenient.
 Subsidence bridge that is the longest in the Shimanto River most downstream. It is full of many tourists with subsidence bridge that is familiar with tourist in fact during season.
The construction date: 1972
Full length: 291.6m
Width: 4.2m
Three village subsidence bridge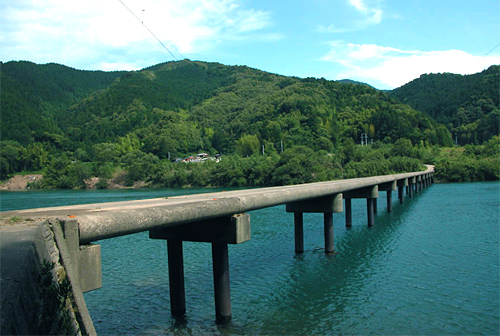 Is car than Nakamura Station; 20 minutes. It is 50 minutes by bicycle. There is bus, but is inconvenient
 There are few people coming in comparison with downstream Imanari Bridge, but scenery projected on the setting sun is superb view.
The construction date: 1963
Full length: 145.8m
Width: 3.3m
Takase subsidence bridge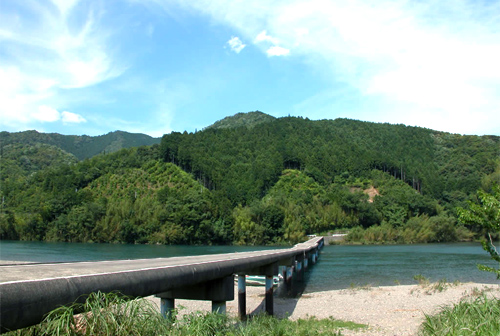 Is car than Nakamura Station; 25 minutes. Bus is Takase Bridge getting off in Ekawasaki line.
 It is subsidence bridge which is the third longest in Shimanto River. Firefly sightseeing of early summer, camp of the summertime are full of many tourists.
The construction date: 1973
Full length: 232.3m
Width: 3.4m
Katsuma subsidence bridge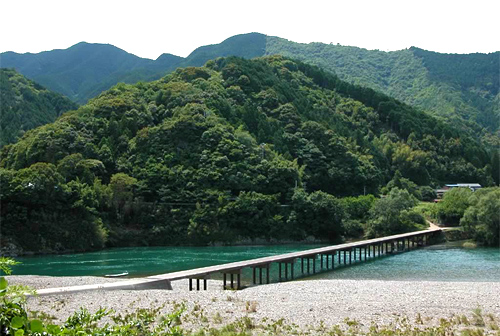 Is car than Nakamura Station; 30 minutes. Bus is koshitasha of cormorant in Ekawasaki line
 Rare subsidence bridge to include three bridge piers. It is famous as the taking picture of fishing fool diary 14 spot.
※We are doing vehicle suspension of traffic for bridge repair construction during the following period.
 R2 age from June 22 to October 31 [8:30 - 12:00.13: 00-17: 00] (plan)
The construction date: 1959
Full length: 171.4m
Width: 4.4m
Indoor Ohashi (popular name/mouth indoor subsidence bridge)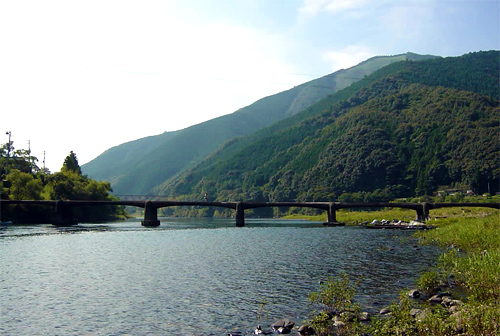 Is car than Nakamura Station; 40 minutes. Is car than JR Ekawasaki Station; 30 minutes
 Design which multi-state had of curve is unique subsidence bridge. kokusonkawa said to be the highest in transparency in branch joins downstream immediately.
 Full-scale suspension of traffic.
The construction date: 1955
Full length: 241.3m
Width: 3.6m
Iwama subsidence bridge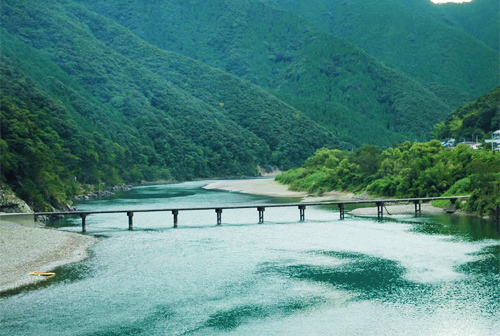 Is car than Nakamura Station; 50 minutes. Is car than JR Ekawasaki Station; 20 minutes
 It is this subsidence bridge that comes up to poster and TV well. It is known even that there are many tourists taking a picture.
※H29 11 a year moon - entire surface suspension of traffic. We can have you see the sights from Iwama teahouse nearby.
The construction date: 1966
Full length: 120.0m
Width: 3.5m
Nagaoi subsidence bridge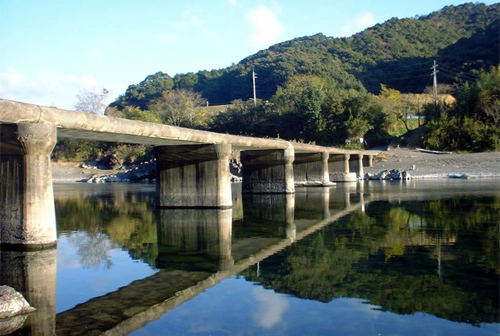 Is car than JR Ekawasaki Station; five minutes
 It is subsidence bridge full of many tourists by camping and canoe in the summertime.
The construction date: 1960
Full length: 120.0m
Width: 3.1m
Nakahage subsidence bridge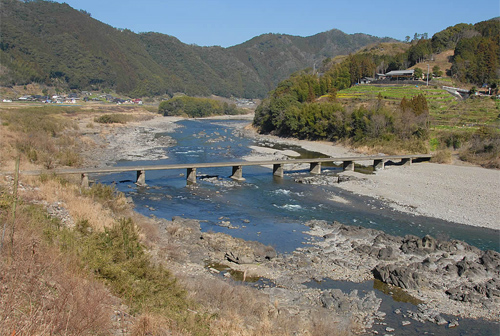 Is car than JR Ekawasaki Station; ten minutes
 We can compare batsusuikyo, this subsidence bridge and bridge varying in three in conjunction with iron bridge of JR.
 No Thoroughfare for Vehicles.
The construction date: 1976
Full length: 125.9m
Width: 4.3m
Half house subsidence bridge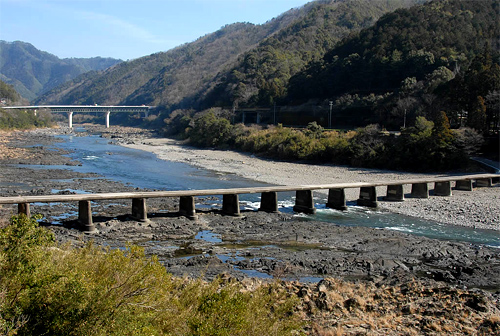 Is car than JR Ekawasaki Station; 15 minutes
 Subsidence Bridge to depend on Shimanto River in Shimanto City most of upper reaches. It takes in fast flowing stream and can enjoy flow of the sound of a stream and white spray. Cow ogre and five deer pass to autumn festival and perform local exorcism.
The construction date: 1960
Full length: 124.5m
Width: 3.3m