Do you not take a trip to Shimanto City by bus?
Circulation tour bus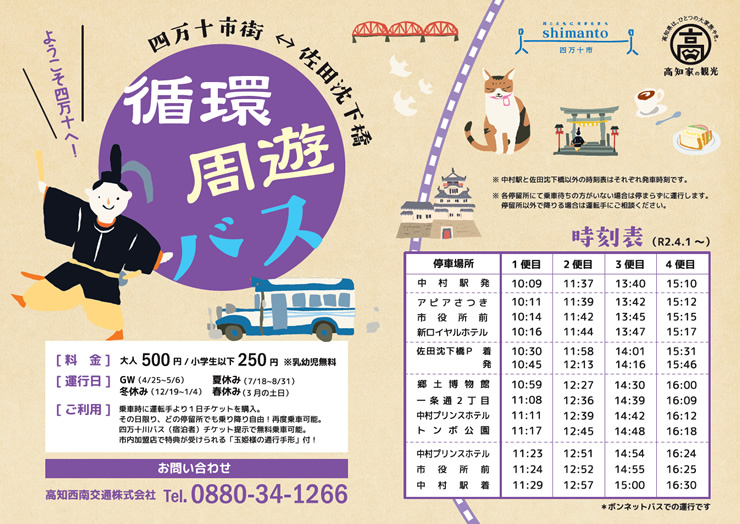 We go around Shimanto city - Sada subsidence bridge. Bonnet bus which is convenient for walk and Accommodations.
You can get on and off freely for one coin 500 yen for one day! Please purchase daily ticket from driver at the time of ride. Only for date of purchase, getting on and off becomes free at all stops! When you take again, show ticket to driver.
It travels in spring vacation for /GW, summer vacation, winter vacation on service day
Rate/500 yen (250 yen younger than primary schoolchild, infants for free)
Inquiry/Kochi southwest traffic
Telephone/0880-34-1266
Shimanto River bus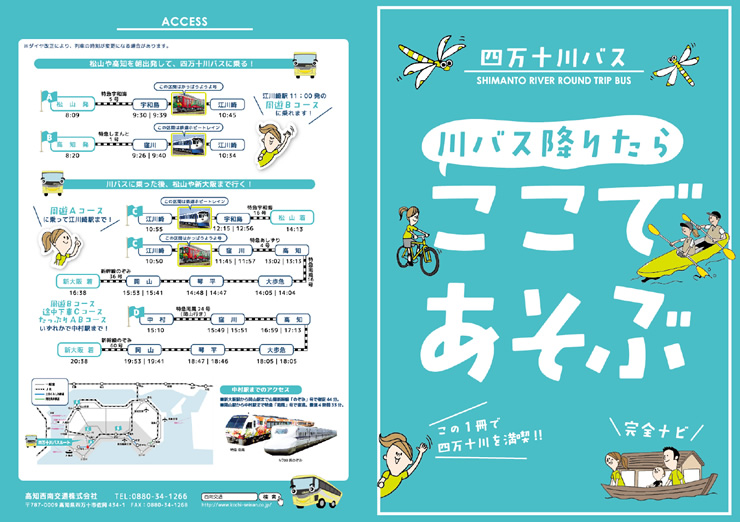 Shimanto River tour bus to tie train and bus to! While walk, Shimanto River pleasure boat see the sights of scenery and subsidence bridge of flow that they meandered through calmly of the last clear stream Shimanto, it is transferred to train to leave for the next destination smoothly.
Inquiry/Kochi southwest traffic
Telephone/0880-34-1266
※It travels from 5/16 and reopens
Trip to Shimanto, Ashizuri area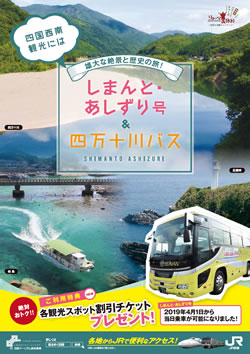 We see the sights in Shimanto, Ashizuri area tour sightseeing bus "Shimanto River bus" and "Shimanto, ashizuri"!
Please enjoy local superb view magnificent by bus and trip of history!
※It travels from 6/6 and reopens
Shimanto River bus
Inquiry/Kochi southwest traffic
Telephone/0880-34-1266
Shimanto, ashizuri
Inquiry/tosaden travel shimantoashizuri guide
Telephone/0880-34-6221