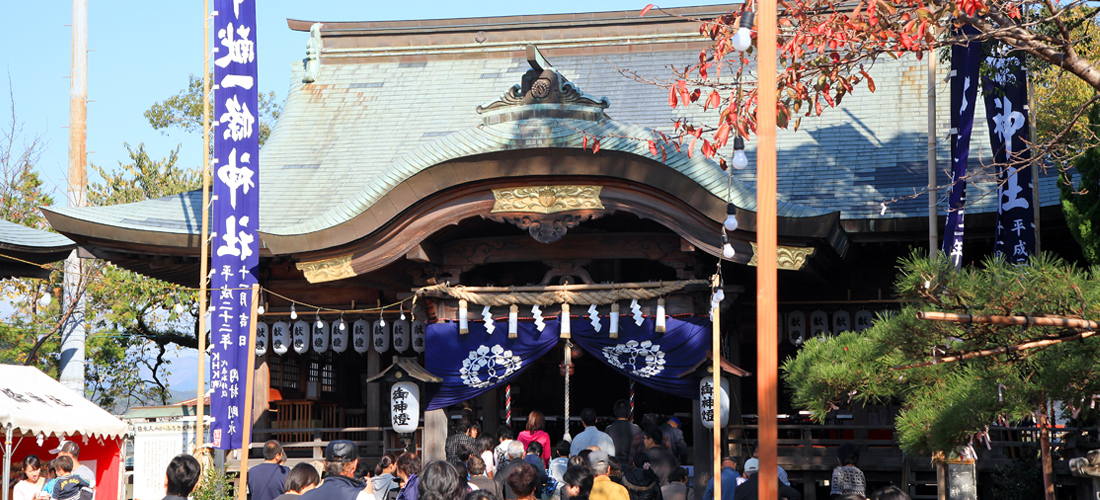 Facility information
Address/1-3, Nakamurahonmachi, Shimanto-shi, Kochi
Phone number/0880-35-2436
It is about five minutes by car from Access/Nakamura Station
The details
 This Shinto shrine was erected by volunteer who remembered to the memory of of 1, Tosa Jo to Ichijo Family burial ground trace which there was in some Komori mountain range top of Nakamura Imperial Palace trace in 1862 (Bunkyu 2).
1, Tosa Jo avoided Onin War and began in the former kampaku Ichijo Norifusa which we did for bottoms and poured power into culture of Nakamura, development of economy afterward for four generations. We enshrine ghost of 1, Tosa Jo each generation in this Shinto shrine including father, kenryo of Norifusa.
 To citizen, it is got close to "ichijokosan", and, as for "the Ichijo Festival" held in November, various events are performed every year for three days including lantern march by sacred fire which I received from Shimogamo-jinja of Kyoto. Current main shrine of 1944 (Showa 19) was erected.
Nakamura Imperial Palace trace
 There is small Moriyama who swelled in the center of city area. Originally there was Atago Shrine in this hill, but Ichijo Norifusa moved to others at time of Nakamura in a downward direction and held the Imperial Palace here.
 As for Ichijo, Nakamura was chased in the Tensho era year, but small shrine which worshiped ghost of Ichijo several generations was built in 1607 by (1607), retainer.
 We look at wisteria in the precincts and historic site related to Ichijo including well of no palace trace and makeup remains and remembers virtue of Ichijo every year on 25th from November 23, and we give all cities, and grand Ichijo Festival is performed.
Prostitute gumo sumo meet 
※We cancel holding in 2020
 As for the prostitute gumo sumo meet, women who went down with Prince Ichijo Norifusa which avoided Onin War now about 500 years ago in the ground of Nakamura miss living of gorgeous Kyoto, and it is said that there was prostitute gumo sumo in the inside where even Nakamura enjoyed play that the Imperial Court is various.
 We are holding as summer memory of children every year now in the Ichijo Shinto shrine precincts in hill of the city center on first Saturday of August.
 For more details, it is this page