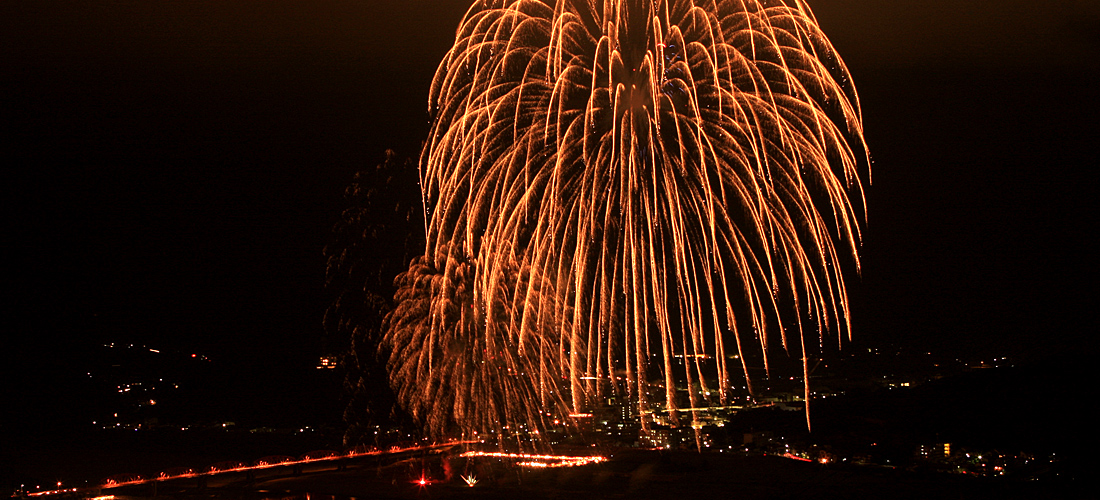 Holding place
Address / Shimanto-shi, Kochi Shimanto River festival open space (Shimanto River riverbed of the red iron bridge sleeve)
It is approximately five minutes by car from Access / Nakamura Station
The details
 "Shimanto Civic Festival" which tells summer arrival to Little Kyoto, Nakamura. As for the Firework Display completing the last, fireworks play with music, and approximately 12,000 colorful fireworks are washed ashore splendidly this year.
Fireworks shining in surface of a river of Shimanto River called "the Japanese last clear stream" colorfully are words of Yumi.
Date
Saturday, August 25, 2018
From 17:30 to 18:30 fourth Little Kyoto yukata contest
Festival parade commendation ceremony civic for from 18:30 to 19:00
Support ticket lottery for from 19:15 to 19:45 with lottery
From 20:00 to 21:00 Firework Display
※In the red iron bridge sidewalk, we cannot see fireworks in tokawadaikyohodojo.
※About temporary parking lot, please see Shimanto City government office homepage.
[temporary local train] (the Nakamura → Kubokawa area)
21:48 from Nakamura Station → 22:00 from Tosa-Irino Station → 22:21 from Tosa-Saga Station → Arrival at Kubokawa Station 22:51    Reference: Tosa Kuroshio Current railroad ☎(0880) 35-4961
[west Tosa ⇔ Nakamura for free shuttle bus]
①Nakamura line stops by; and 18:00 from west Tosa → 18:20 from mouth indoor → Arrival at Iwasaki Park (in front of fireworks venue) 19:00
②From west Tosa line Iwasaki Park (in front of fireworks venue) 21:30 → Arrival at mouth indoor 22:10 → Thus, it is reference at arrival at west Tosa 22:30: West Tosa traffic ☎(0880) 52-1150
Reference
Enquiry Shimanto City Tourism Association (0880) 34-1555
Under support ticket favorable reception sale with Firework Display lottery!
[successful announcement] We show in publication and each office in homepage of Shimanto City, Nakamura Chamber of Commerce, Shimanto City Tourism Association on Monday, September 3
[exchange period] One presents support aloin cosmetics-like product to one that was against lottery for from Wednesday, September 5 to Sunday, October 14 per one piece by the first arrival particularly!
[sale, exchange place] Come to our association.
We can run Shimanto Firework Display by contribution from all of general companies and local people purchasing support ticket with lottery.
I would like your help this year.
In addition, we gather support from one with relationship in Shimanto City of distant place widely as we are challenging crowd funding!