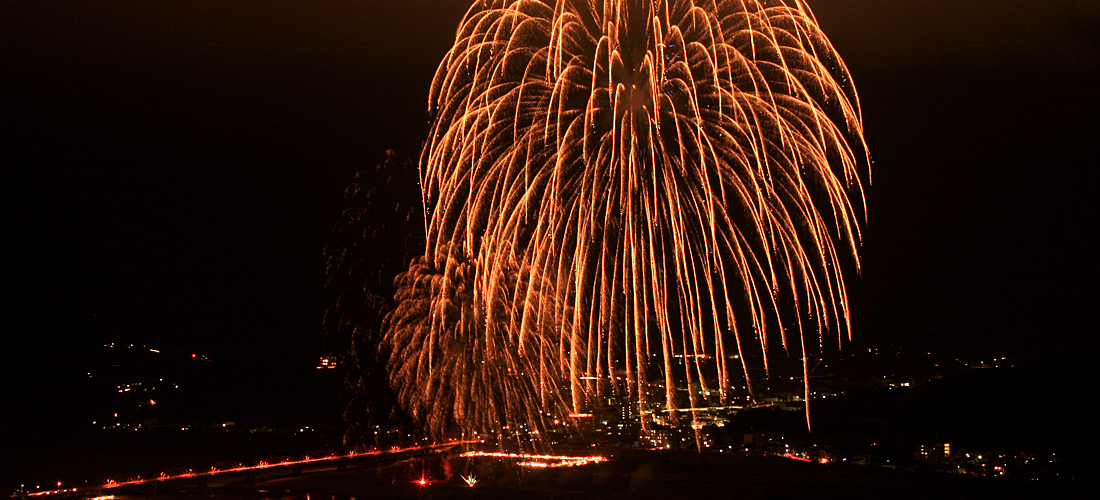 Holding place
The 16th Shimanto Firework Display which we planned on Saturday, August 29, 2020 will cancel holding.
Address/Shimanto-shi, Kochi Shimanto River festival open space (Shimanto River riverbed of the red iron bridge sleeve)
It is about five minutes by car from Access/Nakamura Station
※In the red iron bridge sidewalk, we cannot see fireworks on the Watarigawa-ohashi Bridge sidewalk.
The details
 "Shimanto Civic Festival" which tells summer arrival to Little Kyoto, Nakamura. As for the Firework Display completing the last, fireworks play with music, and 2019 lasts in commemoration of Little Kyoto 550 years of last year, and colorful fireworks are washed ashore about 12,000 splendidly.
Fireworks shining in surface of a river of Shimanto River called "the Japanese last clear stream" colorfully are words of Yumi.
Date
Saturday, August 29, 2020 ※It was canceled in 2020
Reference
Enquiry Shimanto City Tourism Association (0880) 35-4171
We hold Shimanto Firework Display by the support ticket (one piece of 1,000 yen) purchase with your lottery and the support to newspaper insert handbill of company.
We cannot continue meeting without support from all of you. We offer my gratitude for people who always cooperate.
Please we would appreciate your support, cooperation from now on.