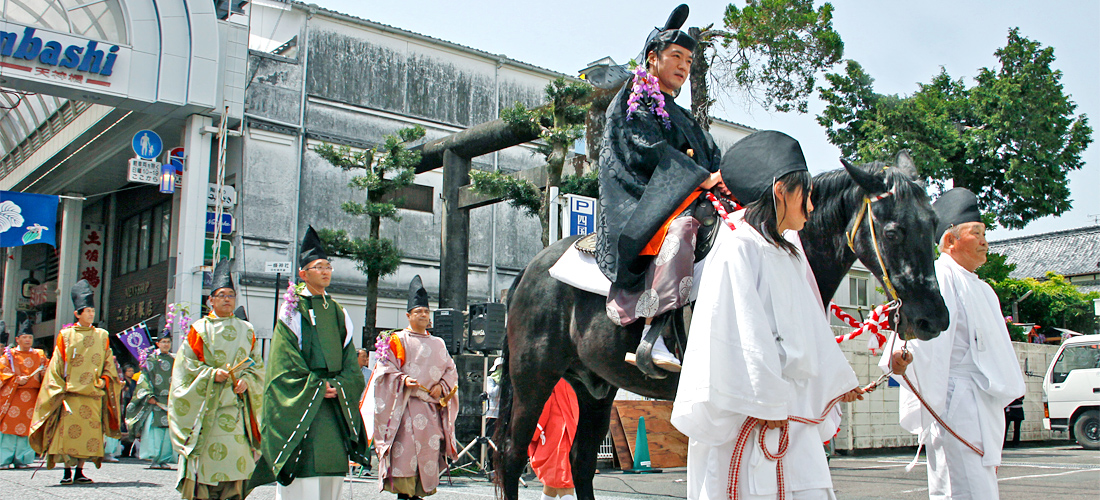 Tosa Ichijo court noble line leaves Kyoto in 1468 and we reproduce prefecture of Prince Norifusa which takes the Nakamura Imperial Palace to restore-so of Hata containing and are performed.
 And it began as festival to thank benefactor of Nakamura opening the Edo shogunate, 1, Tosa Jo each generation from 1992 at the same time to liken to Kyoto "Aoi Festival" related to Ichijo Family, and to appreciate nature mainly on clear stream Shimanto River.
 It is performed after the fashion of court noble line of Aoi Festival of Kyoto, and participant of a total of 200 total number that wore clothes of the Muromachi era in the body parades around the city. Colorful clothes depending on post are just like picture scroll each in the times.
Date
We will cancel for the new coronavirus infectious disease extended prevention in 2020. We would appreciate your understanding.
May 3, 2019 (celebration)
1:00 p.m. ... which departs from line/Ichijo Shinto shrine
   2:00 p.m. ... which departs from going down to the eastern provinces town
10:00 a.m. ... including product fair, eating and drinking corner event, child corner
Reference
Nakamura Chamber of Commerce (0880) 34-4333
Photogallery