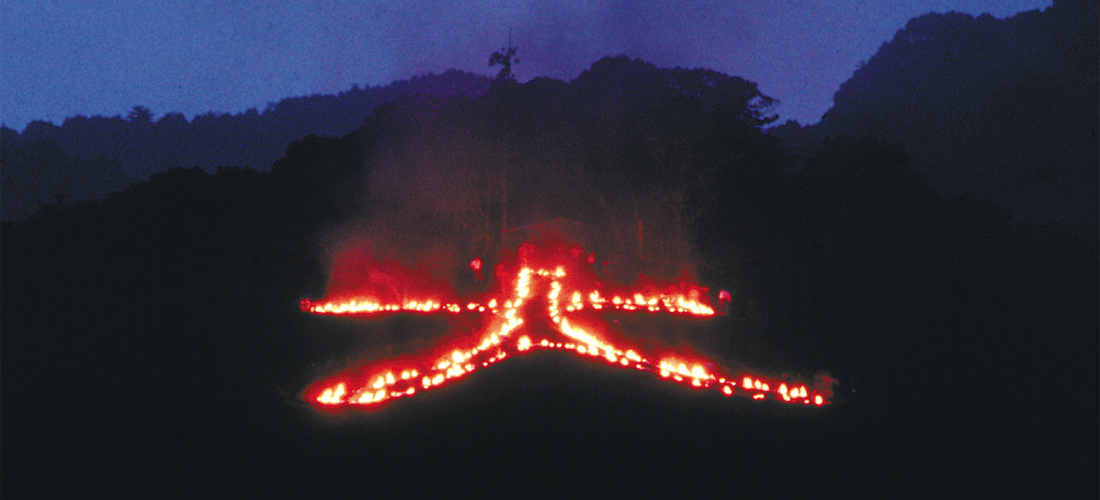 Holding place
Address/Masaki, Shimanto-shi, Kochi
It is about 25 minutes by car from Access/Nakamura Station
The details
 Daimonji Okuribi(Great Bonfire Event) is pastime that gives poetic charm to tell summer end to Little Kyoto Nakamura by tray event of Masaki, Shimanto-shi district.
We dig the trees and plants of halfway up a mountain of the teens natural hill (in hometown, we call lying with a customer without being sexually excited mountain.) dedicated to god of the mountain on July 16 of the old calendar in great print and we post torch which we gathered there from each house of district and build a fire.
 Son, Fusaie of Ichijo Norifusa which escaped from Onin War as the history about 500 years ago, and fell down to Nakamura made sport of Norifusa and grandfather and excellent no spirit of a dead person, and it has been reported that we had begun to miss Kyoto.
kansakijikujumin (kansakijiku 78 are divided into seven sets, and each group hits turn by turns for one year.) hits, and administration pleases eyes of visitors a large number of as "fire related to Prince Ichijo" by rare event only of Nakamura to report in the whole country in Kyoto and the elegant o present age of Kyoto.
Date
We light from 19:00 on Thursday, September 3, 2020 (old calendar July 16)
Reference
Enquiry Shimanto City Tourism Association (0880) 35-4171