Little Kyoto Nakamura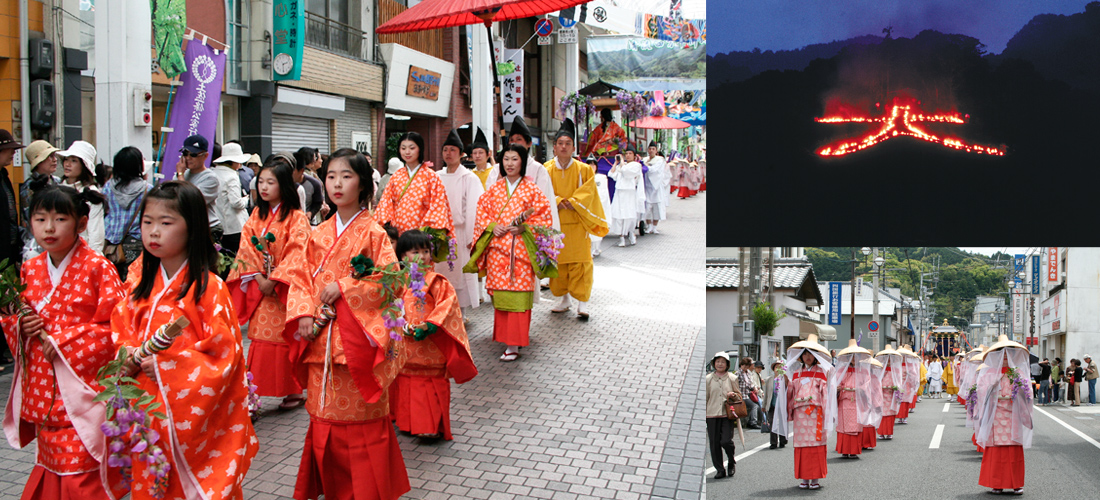 With Little Kyoto
"Little Kyoto" is nickname of town which was named because old cityscape and scenery are similar to Kyoto.
It is the local government which joined Kyoto meetings of the whole country that can introduce itself as Little Kyoto formally and is approved if it is equal to the next condition more than one.
1. Nature and scenery similar to Kyoto
2. Historic connection with Kyoto
3. There are traditional industry and entertainment
Here Shimanto City was called "Little Kyoto of Tosa" from the old days, too.
The origin is the Muromachi era. Prince kampaku Ichijo Norifusa set up the Nakamura Imperial Palace in here Nakamura (the existing Shimanto City) to avoid the war of Onin War (current Ichijo Shinto shrine). Prince Ichijo which felt nostalgic for the capital did grid-formed town planning that imitated Kyoto. Most of the traditional cityscape is not left by Nankai major earthquake of 1946, but the place name or Shinto shrine of connection which we chose in Kyoto including cityscape and Kamogawa and Higashiyama of grid remain in many places even now, and there is reluctance of leaving of Kyoto culture such as "Ichijo Festival" "Daimonji Okuribi(Great Bonfire Event)" and Tosa Ichijo court noble line "wisteria festival", too.
Shimanto City meets all 3 conditions of "Little Kyoto".
Little Kyoto meetings of the whole country started in 26 places including Kyoto in 1985. In fact, we Shimanto City made opportunity of the meeting start.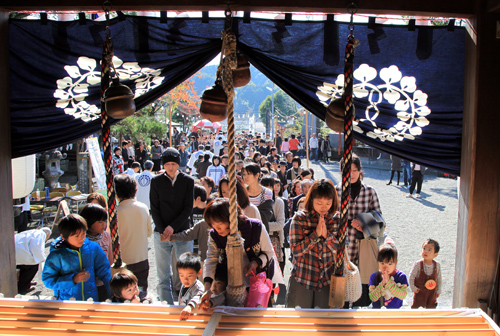 We had sacred fire to dedicate in "Ichijo Festival" in November every year from Kyoto Shimogamo-jinja in Nakamura, Shimanto-shi. When we visited Kyoto to have the sacred fire in 1982, we paid a courtesy visit to Sightseeing Association of Kyoto. It was moved at all with culture of Shimanto City that Kyoto Sightseeing Association which supported valued connection with Kyoto, and this was a chance one, and the whole country Kyoto meeting started on this occasion three years later.
46 local governments join and are spreading through the whole country now.
Ichijo Family family tree
※We jump to explanation of the person when we click click and place to be written on.
Ichijo Norifusa (1423 – 1480)
We build father of Tosa Ichijo. It is the eldest son of man of talent Kanera Ichijo. Taking the opportunity of Onin War, it is downward in Tosa Hata-so that is manor of Ichijo Family at 46 years old. Nakamura builds the basics to prosper as way station of anti-people trade while pushing forward reconstruction of manor. Age at death 58 years old. We pray soul may rest in peace after the death, and many people are informed as we became a priest, and it is indicated that Norifusa was loved by people of Hata-so.
Ichijo Fusaie (1475 – 1539)
Mother is daughter of influential person Kakumi (Tosashimizu-shi) of hometown. It is asked local people of Hata and stays in Nakamura. We choose Nakamura in Kyoto and make cityscape, the place name. We develop Hata-so as stable manor and make 1, Tosa Jo glory years. Age at death 63 years old.
Ichijo Fusafuyu (1498 – 1541)
The reign is two years, but we spend the times of prosperity of Ichijo Family seeing Kyoto substantially and make princess, Tamahime of royal house wife. A large amount of contribution to the Imperial Court is given by the name of Fusafuyu, too, and success of anti-light trade and rich yellowtail can call. Age at death 44 years old.
Wife Tamahime (1521 marriage of an Imperial princess to a subject of Fusafuyu – 1547)
Princess of fusekenkyukunikoshino. Only on 2nd of June 22 when it departed from sonkaiwanao and port of Fushimi that the Tamahime-like name remained for history to marry into Nakamura and August 22 passed away. We become a priest after the death of husband Fusafuyu and die after Kanesada of grandchild was born. As it was very beautiful princess, we are loved even now by Shimanto citizen.
Ichijo Fusamoto (1522 – 1549)
Grandfather, father who were full of prosperity die in succession and inherit the back at 20 years old. Wife meets younger sister of Sorin Otomo of Kyushu. We support Otomo at this edge and invade Iyo and became war-torn country daimyo, but kill ourselves at 28 years old.
Kanesada Ichijo (1543 – 1585)
The present head of a household of the end of Tosa Ichijo Family which lived in Hata. As father Fusamoto killed young itself, we inherit birthright at 7 years old. Wife is the second daughter of Sorin Otomo. Is thrown by-like abbreviation of Motochika Chosokabe in vassal corps; in Bungo Usuki. Christian in Bungo; is baptized, and become Don Paul. We get support of shu* and start Nakamura recapture, but are defeated in tokawagosen. We die in Iyo Toshima. Age at death 42 years old. Wisteria (wisteria which does not bloom) which Kanesada favored is known as origin of the Ichijo Shinto shrine foundation.